Today I'm linking up with three lovely ladies to do: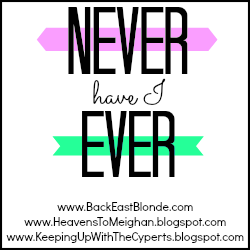 Alright, so I have no idea how many things I'll come up with. But, here we go:

Never Have I Ever...
One. Broken a bone.
Crazy, I know. I'm so clumsy, but I've been lucky enough to never break a bone.

Two. Tried lobster.
This one is also crazy because I'm from Nova Scotia.

Three. Gone skiing.
I'm clumsy, y'all. We've covered this. 'Nough said.

Four. Been in trouble with the law.
I can let loose, but I'm definitely a good girl at heart.

Five. Been to Paris.
Dying to go, but I haven't been yet!

Six. Been kayaking.
Nope, I don't do boats (except yachts and cruise ships).

Seven. Seen any of the LOTR movies.
This one actually surprises me, I never saw the first one and I didn't want to see the others since I missed the beginning.

Eight. Gone swimming in the Pacific Ocean.
I've lived in Vancouver for TWO years, but I haven't gone swimming in the ocean. I've put my feet in, but that's it.


Annnnnd I think that's all that I've got.
I can't think of any more - See you all tomorrow!