Today I'm linking up to share Why I Started Blogging...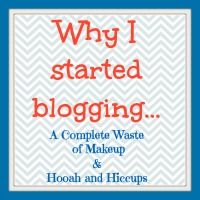 I've blogged for years - back in the days (junior high, high school, etc.) on LJ, and then I continued to blog for my photography blog.

But, I started this blog back in December (2012). I had planned on just using it for the month to do my version of an Advent Calendar. I did something similar the year before, on Facebook. I would post a lame Christmas joke every day and take a picture that would go along with it. It sounds kind of crazy, I know. But I had such a blast doing it the past two Christmases - and I might do it again this year.
After Christmas, I decided to keep on blogging because I started to love the blog community!

Here are a few examples of some of the jokes that I did:

What do reindeer hang on their Christmas trees?
"Horn"-aments


What is red & white and says 'Oh Oh Oh'.
Santa walking backwards
Why does Santa go down the chimney?
Because it 'soots' him.
What do elves learn in school?
The elf-a-bet.


I told you guys that it was ridiculous. I'm kind of a loser, but I'm okay with that - haha.
So there you have it - that's why I started this blog... and I continue to blog because I'm truly loving it.