Oh hi, happy
Wednesday
hump
day.
My favourite little
Californian
posted about this topic yesterday, and then decided to turn it into a link-up.. soooo here I am. I was going to steal her idea for today anyway, but at least it's legit now and she can't get mad.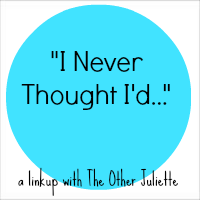 Alright, so lets see...
I Never Thought I'd
...
... make friends through blogging. I've made some great friends.. and a few that I know will be around for life.

... move to the west coast - but I've been in Vancouver for 3 years now.

... live without a car - it's a struggle at times, but I've managed to survive, so far.

... lose over 100lbs.





... go back to having insomnia again, but it's back. Oh joy.

... date another guy from online, but then I met Justin.

... become lactose intolerant. It's basically the worst thing, ever.

... be a runner, and now I'm doing a 10k this month.





... make sketti like honey boo boo, and document it for the blog.

... get a hangover. oh wait, STILL HAVEN'T - muahahaha.

... deal with my parents selling my childhood home and moving to another continent.

... go to Surrey (for anyone outside of Vancouver, you won't understand this.. but this is a big change since J lives there).

... fall in love.
Awww shhhh, I know. So mushy.