For the past two weeks I've been having a bit of a
meltdown
of sorts regarding a dress. A meltdown over a dress, you ask? Well.. it's not just any dress, it's a freakin' bridesmaid dress that I have to wear in my best friends wedding in August.
For the record, she has no idea about ANY of this... so Nikki, if you're reading... don't panic.
Anyway, back to the story.. I had to order the dress back in January. As some of you may or may not know, I dropped about 6/7 dress sizes last year. When ordering the dress, I was told that they can only alter the dress as much as 2 sizes (to take it in). I talked with the bride, my roommate, and the woman at David's Bridal and everyone thought I should get the dress ONE size too small, that way I had the wiggle room to lose up to 3 sizes. Since I lost so much weight LAST year and I was on point with working out 5-6x a week, I'd definitely lose at least 1 or 2 sizes. I was wrong.
In February I got sick and basically had the entire month with basically no working out. in March I got injured and COULDN'T workout, and that trend basically stayed on point up until June. I got the dress, tried it on, and it was a size too small. I haven't lose
any weight
since January. Crap. So I started to panic and basically cried (minus the tears) to
Juliette
and
Lindsay
about what to do. It's too late to order a new dress, I can't have it "let out" an entire size... clearly I need to crash diet. This resulted in the opposite, and I'd just binge eat because I was starving and I'm pretty sure I've actually GAINED 2lbs since I got the dress instead of losing any weight.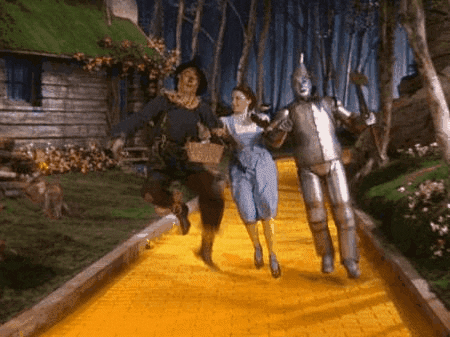 we're off to see the wizard...


But now, NOW, we are okay... you see, I took a little trip to see The Wiz. In case you're confused, I went to see 'The Wizard' last week and she basically
saved my life
kept me from having a nervous break-down (because hey, I'm clearly dramatic here), and examined my dress. To back track, I started calling her The Wizard before I went to see her because I told Juliette that she'd need to have so many tricks up her sleeves in order for me to ever fit into the dress and that basically she needed to work some kind of magic.
Anyway, I tried the dress on for The Wiz and she was very optimistic. She said it's only 3 inches too small, and what would you know - SHE FOUND 3 INCHES IN THE SEAMS OF THE DRESS. So if I absolutely don't lose any weight, she can 'let the dress out' and I will fit into the dress no problem. If I lose weight, she may not need to alter it at all. HALLELUJAH. I've never been so happy to get news about a dress in my entire life.
Now I just need to stay on point - try and drop some weight in the next month... or at least not gain anymore weight and I'll totally be golden. Everyone just keep pizza, ice cream, vodka, and tacos out of my line of sight - okay?